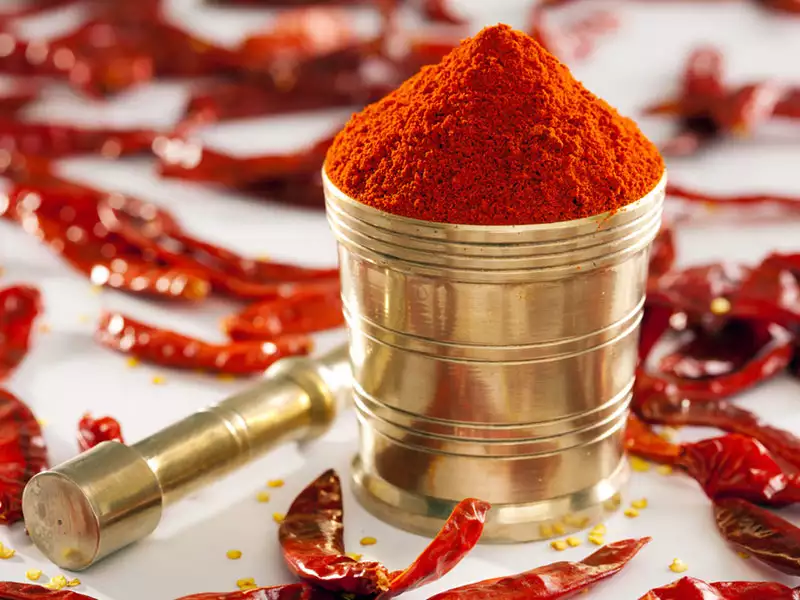 Red chilli powder is an integral part of Indian cuisine. There is hardly any dish in Indian cuisine that is complete without red chillies. Whether in the powder form or as a whole spice, red chilli is used in recipes to give the fiery punch to your taste buds. Widely used in different cuisines to add pungency, flavour and delectable red colour to the dish, red chilli powder is available in a wide variety. Adding the quintessential red colour and sharp flavour to your food, a pinch of red chilli powder makes a flat dish appealing.
Nutritional properties and health benefits
Typically, red chilli powder is a spice blend consisting of one or two different types of chillies that are ground into the fine powder.
The primary bioactive component in red chillies is capsaicin which has great analgesic and anti-inflammatory properties. Capsaicin is responsible for the taste, flavour and health benefits of red chillies. Besides, adding taste and flavour, red chilli powder has a long list of health advantages to offer
Rich in vitamin A, it can improve our eyesight, prevent night blindness and wards off age-related eye problems.
Capsaicin in red chillies is an anti-inflammatory agent which helps reduce muscle and joint pains.
Increasing the secretion of digestive enzymes, it boosts digestion, prevent constipation and gas.
Capsaicin in red chilli powder is an effective fat burning agent and appetite suppressant. It also boosts metabolism.
Enriched with vitamin C and antioxidants, this wonder spice strengthens the immune system and helps heal infections quickly.
Rich in iron it boosts the production of haemoglobin and increases blood flow to the cells. An adequate amount of oxygen to the brain improves cognitive function and prevents cognitive disorders like dementia.
It is good for your heart and useful in reducing triglycerides, cholesterol.
It can fight chronic sinus infections and helps to clear the congested respiratory system
Capsaicin in red chilli boosts the secretion of feel-good endorphins and stimulate sexual arousal.
Offering a wide assortment of great quality red chilli powder at the highest competitive rates, the red chilli powder manufacturers in Maharashtra have acclaimed a strong position in the spice market nationwide. Their provided range of red chilli powder in endeared widely for its purity, freshness, flavour and classy packaging. Engaged in offering prominent quality products and excellent customer services within the promised timeframe all across India, the spice suppliers in India have gained a huge clientele across the country. Following are some of the important factors that the suppliers always consider to retain their popularity in the market.
They ensure that the red chilli powder is naturally blended and free from artificial colours, harmful eatables.
Considered amongst the top red chilli powder suppliers in India, they ensure that their product is checked thoroughly by a team of agro experts on pre-defined parameters to ensure before finally forwarding them to the marketplace.
To meet the varied demands of their wide patron base, the red chilli powder suppliers in India offer these products in many customized high-grade packaging options.
They have a team of agro experts to administer properly for every process and ensure that the red chilli is thoroughly cleaned, graded and uniformly crushed before they are packed as the final product.
When it comes to buying good quality red chilli powder from India catering to the specific needs of customers, you can trust the Maharashtra based spice suppliers for the highest quality and best possible rates.
This entry was posted on May, 20, 2021 at 11 : 23 am and is filed under Red Chilli Powder. You can follow any responses to this entry through the RSS 2.0 feed. You can leave a response from your own site.